Toyota Camry: Safety Connect
Safety Connect is a subscription-based telematics service that uses Global Positioning System (GPS) data and embedded cellular technology to provide safety and security features to subscribers.
Safety Connect is supported by Toyota's designated response center, which operates 24 hours per day, 7 days per week.
Safety Connect service is available by subscription on select, telematics hardware-equipped vehicles.
By using the Safety Connect service, you are agreeing to be bound by the Telematics Subscription Service Agreement and its Terms and Conditions, as in effect and amended from time to time, a current copy of which is available at Toyota.com in the United States, Toyotapr.com in Puerto Rico and Toyota.ca in Canada. All use of the Safety Connect service is subject to such then-applicable Terms and Conditions.
■ System components
Microphone
LED light indicators
"SOS" button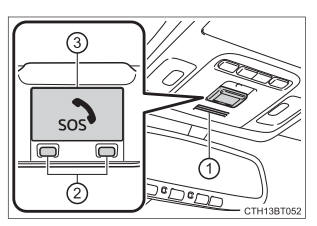 ■ Services
Subscribers have the following Safety Connect services available:
Automatic Collision Notification*
Helps drivers receive necessary response from emergency service providers.
Stolen Vehicle Location
Helps drivers in the event of vehicle theft.
Emergency Assistance Button
Connects drivers to response-center support.
Enhanced Roadside Assistance
Provides drivers various on-road assistance.
*: U.S. Patent No. 7,508,298 B2
■ Subscription
After you have signed the Telematics Subscription Service Agreement and are enrolled, you can begin receiving services.
A variety of subscription terms are available for purchase. Contact your Toyota dealer, call the following appropriate Customer Experience Center or push the "SOS" button in your vehicle for further subscription details.
The United States
1-800-331-4331
Canada
1-888-869-6828
Puerto Rico
1-877-855-8377
■Safety Connect Services Information
■Languages
The Safety Connect response center will offer support in multiple languages.
The Safety Connect system will offer voice prompts in English, Spanish, and French. Please indicate your language of choice when enrolling.
■When contacting the response center
You may be unable to contact the response center if the network is busy.
Safety Connect LED light Indicators
When the engine switch is turned to IGNITION ON mode, the red indicator light comes on for 2 seconds then turns off. Afterward, the green indicator light comes on, indicating that the service is active.
The following indicator light patterns indicate specific system usage conditions:
Green indicator light on = Active service
Green indicator light flashing = Safety Connect call in process
Red indicator light (except at vehicle start-up) = System malfunction (contact your Toyota dealer)
No indicator light (off) = Safety Connect service not active
READ NEXT:
■ Automatic Collision Notification In case of either airbag deployment or severe rear-end collision, the system is designed to automatically call the response center. The responding agent receive
The vehicle's keys have built-in transponder chips that prevent the engine from starting if a key has not been previously registered in the vehicle's on-board computer. Never leave the keys insid
SEE MORE:
The following procedures will help protect your vehicle's interior and keep it in top condition: Protecting the vehicle interior Remove dirt and dust using a vacuum cleaner. Wipe dirty surfaces with a cloth dampened with lukewarm water. If dirt cannot be removed, wipe it off with a soft cl
DESCRIPTION This circuit sends an operation signal from the steering pad switch assembly to the radio and display receiver assembly. If there is an open in the circuit, the audio system cannot be operated using the steering pad switch assembly. If there is a short in the circuit, the same condit