Toyota Camry: RCTA function - RCTA (Rear Cross Traffic Alert)
The RCTA functions when your vehicle is in reverse. It can detect other vehicles approaching from the right or left rear of the vehicle. It uses radar sensors to alert the driver of the other vehicle's existence through flashing the outside rear view mirror indicators and sounding a buzzer.
Approaching vehicles
Detection areas
■ RCTA icon display (if equipped)
When a vehicle approaching from the right or left at the rear of the vehicle is detected, the following will be displayed on the audio system screen.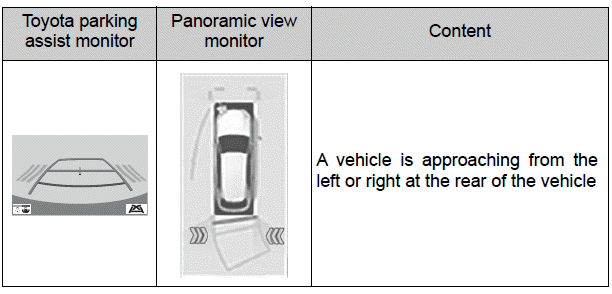 WARNING
■Cautions regarding the use of the system
There is a limit to the degree of recognition accuracy and control performance that this system can provide, do not overly rely on this system. The driver is always responsible for paying attention to the vehicle's surroundings and driving safely.
RCTA function detection areas
The areas that vehicles can be detected in are outlined below.

To give the driver a more consistent time to react, the buzzer can alert for faster vehicles from farther away.
Example:

■The RCTA function is operational when
■Conditions under which the system will not detect a vehicle
The RCTA function is not designed to detect the following types of vehicles and/or objects:
Vehicles approaching from directly behind
Vehicles backing up in the parking space next to your vehicle*
Vehicles that the sensors cannot detect due to obstructions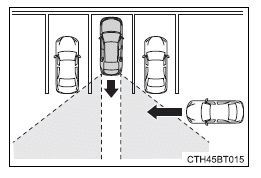 Guardrails, walls, signs, parked vehicles and similar stationary objects*
Small motorcycles, bicycles, pedestrians, etc.*
Vehicles moving away from your vehicle
Vehicles approaching from the parking spaces next to your vehicle*
The distance between the sensor and approaching vehicle gets too close
*: Depending on the conditions, detection of a vehicle and/or object may occur.
■Situations in which the system may not operate properly
The RCTA function may not detect vehicles correctly in the following situations:
When the sensor is misaligned due to a strong impact to the sensor or its surrounding area
When mud, snow, ice, a sticker, etc., is covering the sensor or surrounding area on the position above the rear bumper
When driving on a road surface that is wet with standing water during bad weather, such as heavy rain, snow, or fog
When multiple vehicles are approaching with only a small gap between each vehicle
When a vehicle is approaching at high speed
When equipment that may obstruct a sensor is installed, such as a towing eyelet, bumper protector (an additional trim strip, etc.), bicycle carrier, or snow plow
When backing up on a slope with a sharp change in grade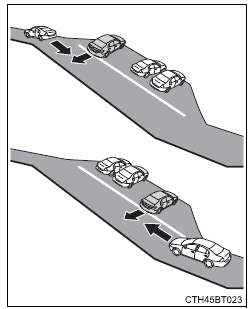 When backing out of a sharp angle parking spot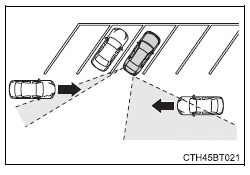 When towing a trailer
When there is a significant difference in height between your vehicle and the vehicle that enters the detection area
When a sensor or the area around a sensor is extremely hot or cold
If the suspension has been modified or tires of a size other than specified are installed
If the front of the vehicle is raised or lowered due to the carried load
When turning while backing up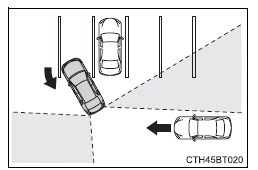 When a vehicle turns into the detection area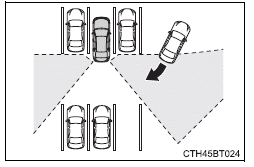 ■Situations in which the system may operate even if there is no possibility of a collision
Instances of the RCTA function unnecessary detecting a vehicle and/or object may increase in the following situations:
When the parking space faces a street and vehicles are being driven on the street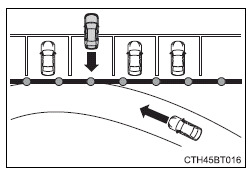 When the distance between your vehicle and metal objects, such as a guardrail, wall, sigh, or parked vehicle, which may reflect electrical waves toward the rear of the vehicle, is short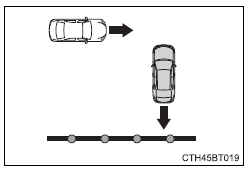 When equipment that may obstruct a sensor is installed, such as a towing eyelet, bumper protector (an additional trim strip, etc.), bicycle carrier, or snow plow
When a vehicle passes by the side of your vehicle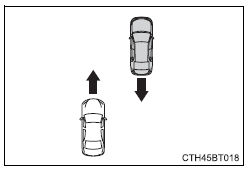 When a detected vehicle turns while approaching the vehicle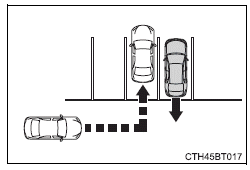 When there are spinning objects near your vehicle such as the fan of an air conditioning unit
When water is splashed or sprayed a sprinkler
Moving objects (flags, exhaust fumes, large rain droplets or snowflakes, rain water on the road surface, etc.)
When the distance between your vehicle and a guardrail, wall, etc., that enters the detection area is short
Gratings and gutters
When a sensor or the area around a sensor is extremely hot or cold
If the suspension has been modified or tires of a size other than specified are installed
If the front of the vehicle is raised or lowered due to the carried load
READ NEXT:
When the vehicle is backing up, the rear camera detection function can detect pedestrians in the detection area behind the vehicle. If a pedestrian is detected, a buzzer will sound and an icon on t
The Parking Support Brake system consists of the following functions that operate when driving at a low speed or backing up, such as when parking. When the system determines that the possibility of
If the Parking Support Brake detects that a collision with an object is possible, the engine output will be restricted to restrain any increase in the vehicle speed. (Engine output restriction contr
SEE MORE:
Tire inflation pressure The recommended cold tire inflation pressure and tire size are displayed on the tire and loading information label. Inspection and adjustment procedure Tire valve Tire pressure gauge 1. Remove the tire valve cap. 2. Press the tip of the tire pressure gauge on
INSTALLATION CAUTION / NOTICE / HINT NOTICE: This procedure includes the installation of small-head bolts. Refer to Small-Head Bolts of Basic Repair Hint to identify the small-head bolts. Click here PROCEDURE 1. INSTALL SPARK PLUG HINT: Perform "Inspection After Repair" after replacin