Toyota Camry: Display - Intuitive parking assist
When the sensors detect an object, the following displays inform the driver of the position and distance to the object.
Front corner sensor operation
Front center sensor operation
Rear corner sensor operation
Rear center sensor operation
Select to mute the buzzer sounds.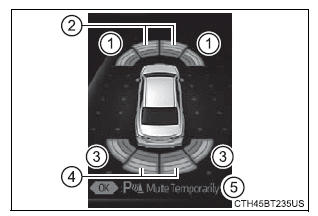 ■Muting the buzzer sound
To mute the buzzer sound
The buzzer can be temporarily muted by pressing of the meter control switches while an object detection display is shown on the multi-information display.
To cancel the mute
Mute will be automatically cancelled in the following situations.

When the shift position is changed
When the vehicle speed exceeds a certain speed.
When the intuitive parking assist is turned off once and turned on again
When the engine switch is turned off once and turned to IGNITION ON mode again
When a sensor is malfunctioning
Sensor detection display, object distance
■ Distance display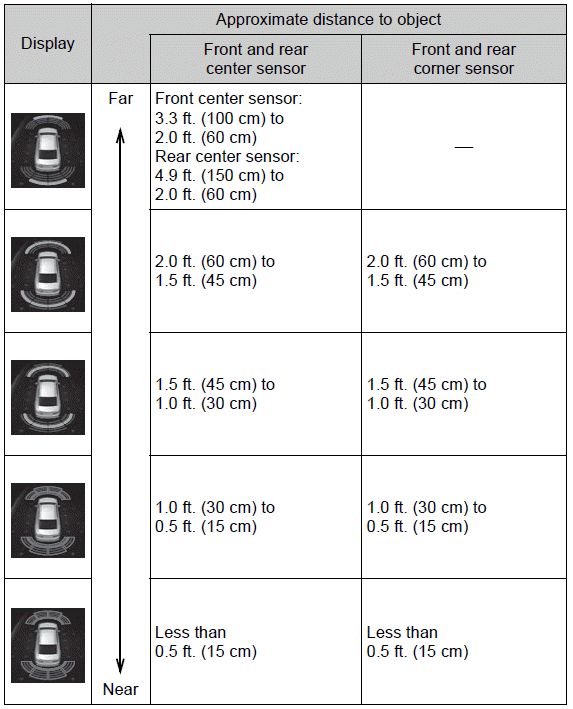 ■ Buzzer operation and distance to an object
A buzzer sounds when the sensors are operating.
The buzzer sounds faster as the vehicle approaches an object.
When the vehicle comes within the following distance of the object, the buzzer sounds continuously: Approximately 1.0 ft. (30 cm).
When 2 or more objects are detected simultaneously, the buzzer system responds to the nearest object. If one or both come within the above distances, the beep will repeat a long tone, followed by fast beeps.
Automatic buzzer mute function
After a buzzer begins sounding, if the distance between the vehicle and the detected object does not become shorter, the buzzer will be muted automatically.

(However, if the distance between the vehicle and object is 1.0 ft. (30 cm) or less, this function will not operate.)
Detection range of the sensors
Approximately 3.3 ft. (100 cm)
Approximately 4.9 ft. (150 cm)
Approximately 2.0 ft. (60 cm)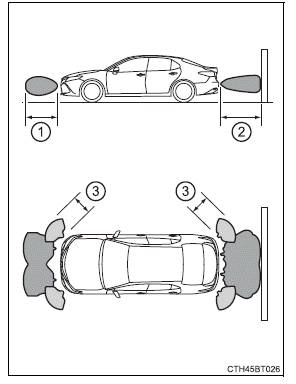 The diagram shows the detection range of the sensors. Note that the sensors cannot detect objects that are extremely close to the vehicle.
The range of the sensors may change depending on the shape of the object, etc.
READ NEXT:
The buzzer volume can be changed on the multi-information display when the engine switch is in IGNITION ON mode. ■The system can be operated when The engine switch is in IGNITION ON mode. I
The RCTA function uses the BSM rear side radar sensors installed behind the rear bumper. This function is intended to assist the driver in checking areas that are not easily visible when backing up
The RCTA functions when your vehicle is in reverse. It can detect other vehicles approaching from the right or left rear of the vehicle. It uses radar sensors to alert the driver of the other vehicl
SEE MORE:
Heated steering wheel and seat heaters heat the side grips of the steering wheel and seats, respectively. Seat ventilators maintain good ventilation by pulling air through the seat upholstery. WARNING ■To prevent minor burn injuries Care should be taken to prevent injury if anyone in the foll
FREEZE FRAME DATA CHECK FREEZE FRAME DATA (a) Connect the Techstream to the DLC3. (b) Turn the ignition switch to ON. (c) Turn the Techstream on. (d) Enter the following menus: Body Electrical / Navigation System / Trouble Codes. Body Electrical > Navigation System > Trouble Codes (e) Se