Toyota Camry: Driving mode select switches
The driving modes can be selected to suit driving condition.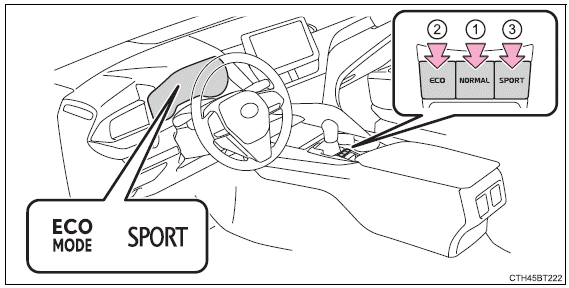 Normal mode
Use for normal driving.
While in Eco drive mode or sport mode, press the switch to change the driving mode to normal mode.
Eco drive mode
Use Eco drive mode to help achieve low fuel consumption during trips that involve frequent accelerating.
When the "ECO" switch is pressed, the "ECO MODE" indicator comes on in the instrument cluster.
Sport mode
Use sport mode when increased acceleration response and precise
handling is desired, for example, when driving on mountain roads.

When the "SPORT" switch is pressed, the "SPORT" indicator comes on in the instrument cluster.
■Operation of the air conditioning system in Eco drive mode
Eco drive mode controls the heating/cooling operations and fan speed of the air conditioning system to enhance fuel efficiency (P. 387, 394). To improve air conditioning performance, adjust the fan speed or turn off Eco drive mode.
■Sport mode automatic deactivation
Sport mode is automatically deactivated if the engine switch is turned off after driving in sport mode.
READ NEXT:
Carry out the necessary preparations and inspections before driving the vehicle in winter. Always drive the vehicle in a manner appropriate to the prevailing weather conditions. Preparation for win
Vehicles with 16 and 17-inch tires Use the correct tire chain size when mounting the snow chains. Chain size is regulated for each tire size. Side chain: 0.12 in. (3 mm) in diameter 0.39 in
SEE MORE:
This information has been prepared in accordance with regulations issued by the National Highway Traffic Safety Administration of the U.S. Department of Transportation. It provides the purchasers and/or prospective purchasers of Toyota vehicles with information on uniform tire quality grading.
DESCRIPTION for Automatic Sound Levelizer (ASL): This circuit is necessary for the Automatic Sound Levelizer (ASL) built into the radio and display receiver assembly. The Automatic Sound Levelizer (ASL) function automatically adjusts the audio system volume in order to compensate for increase