Toyota Camry: Seat belt instructions for Canadian owners (in French)
The following is a French explanation of seat belt instructions extracted from the seat belt section in this manual.
See the seat belt section for more detailed seat belt instructions in English.
Utilisation correcte des ceintures de sécurité
Déroulez la sangle diagonale de telle sorte qu'elle passe bien sur l'épaule, sans pour autant être en contact avec le cou ou glisser de l'épaule.
Placez la sangle abdominale le plus bas possible sur les hanches.
Réglez la position du dossier de siège. Asseyez-vous le dos droit et calez-vous bien dans le siège.
Ne vrillez pas la ceinture de sécurité.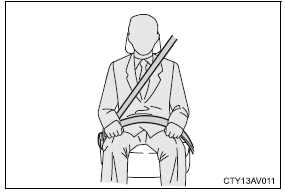 Entretien et soin
■ Ceintures de sécurité
Nettoyez avec un chiffon ou une éponge humidifiés avec de l'eau savonneuse tiède. Vérifiez régulièrement que les ceintures ne sont pas usées, effilochées ou entaillées excessivement.
AVERTISSEMENT
■Détérioration et usure des ceintures de sécurité
Inspectez le système de ceintures de sécurité régulièrement. Contrôlez l'absence de coupures, d'effilochages et de pièces desserrées. N'utilisez pas une ceinture de sécurité endommagée avant qu'elle ne soit remplacée.
Une ceinture de sécurité endommagée ne permet pas de protéger un occupant de blessures graves ou mortelles.
READ NEXT:
The following is a French explanation of SRS airbag instructions extracted from the SRS airbag section in this manual. See the SRS airbag section for more detailed SRS airbag instructions in Englis
A Toyota Camry Repair Manual is a comprehensive guide that provides detailed instructions, diagrams, and technical information for repairing and maintaining Toyota Camry vehicles. It covers a wide ran
SEE MORE:
CAUTION / NOTICE / HINT HINT: Use the following procedure to troubleshoot the audio and visual system. *: Use the Techstream. PROCEDURE 1. VEHICLE BROUGHT TO WORKSHOP NEXT 2. CUSTOMER PROBLEM ANALYSIS When troubleshooting, c
■ Checking fluid level The brake fluid level should be between the "MAX" and "MIN" lines on the tank. "MAX" "MIN" ■ Adding fluid Make sure to check the fluid type and prepare the necessary item. ■Brake fluid can absorb moisture from the air Excess moisture in the brake fluid