Toyota Camry: Air conditioning filter
The air conditioning filter must be changed regularly to maintain air conditioning efficiency.
Removal method
1. Turn the engine switch off.
2. Open the glove box and remove the glove box cover inside the glove box.
3. Remove the filter cover.
Unlock the filter cover.
Move the filter cover in the direction of the arrow, and then pull it out of the claws.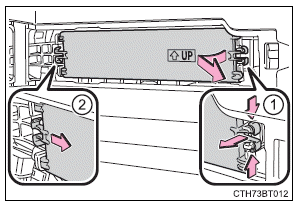 4. Remove the filter case.
There may be foreign objects on top of the air conditioning filter.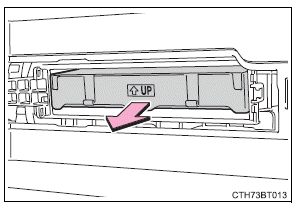 5. Remove the air conditioning filter from the filter case and replace it with a new one.
The "

UP" marks shown on the filter and the filter case should be pointing up.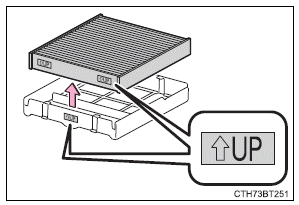 ■Checking interval
Inspect and replace the air conditioning filter according to the maintenance schedule. In dusty areas or areas with heavy traffic flow, early replacement may be required. (For scheduled maintenance information, please refer to the "Scheduled Maintenance Guide" or "Owner's Manual Supplement".)
■If air flow from the vents decreases dramatically
The filter may be clogged. Check the filter and replace if necessary.
■Air conditioning filter with deodorizing function
When fragrances are placed in your vehicle, the deodorizing effect may become significantly weakened in a short period.
When an air conditioning odor comes out continuously, replace the air conditioning filter.
NOTICE
■When using the air conditioning system
Make sure that a filter is always installed.
Using the air conditioning system without a filter may cause damage to the system.
■To prevent damage to the filter cover
When moving the filter cover in the direction of arrow to release the fitting, pay attention not to apply excessive force to the claws. Otherwise, the claws may be damaged.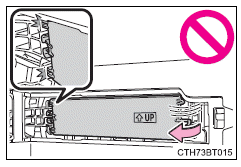 READ NEXT:
Replace the battery with a new one if it is depleted. You will need the following items: Flathead screwdriver Small flathead screwdriver Lithium battery CR2032 Replacing the battery Vehic
If any of the electrical components do not operate, a fuse may have blown. If this happens, check and replace the fuses as necessary. 1. Turn the engine switch off. 2. Open the fuse box cover. Eng
You may replace the following bulbs yourself. The difficulty level of replacement varies depending on the bulb. If necessary bulb replacement seems difficult to perform, contact your Toyota dealer.
SEE MORE:
PROCEDURE 1. CHECK DISPLAY SETTING (a) Reset display settings (contrast, brightness) and check that the screen appears normal. OK: The display returns to normal. OK END NG PROCEED TO NEXT SUSPECTED AREA SHOWN IN PROBLEM SYMPTOMS TABLE
PROCEDURE 1. CHECK NOISE CONDITION (a) Check from which direction the noise comes (front left or right, or rear left or right). OK: The location of the noise source can be determined. NG GO TO STEP 3 OK 2. CHECK SPEAKERS (a