Toyota Camry: Hood
Release the lock from the inside of the vehicle to open the hood.
1. Pull the hood lock release lever.
The hood will pop up slightly.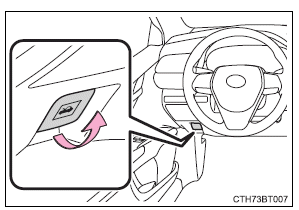 2. Pull up the auxiliary catch lever and lift the hood.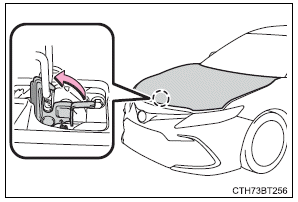 3. Hold the hood open by inserting the support rod into the slot.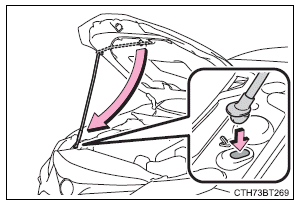 ■Open hood warning buzzer
If the vehicle reaches a speed of 3 mph (5 km/h), the master warning light flashes and a buzzer sounds to indicate that the hood is not fully closed.
WARNING
■Pre-driving check
Check that the hood is fully closed and locked.
If the hood is not locked properly, it may open while the vehicle is in motion and cause an accident, which may result in death or serious injury.
■After installing the support rod into the slot
Make sure the rod supports the hood securely preventing it from falling down onto your head or body.
NOTICE
■When closing the hood
Be sure to return the support rod to its clip before closing the hood. Closing the hood with the support rod not clipped could cause the hood to bend.
READ NEXT:
When using a floor jack, follow the instructions in the manual provided with the jack and perform the operation safely. When raising your vehicle with a floor jack, position the jack correctly.
2.5 L 4-cylinder (A25A-FKS) engine Fuse boxes (if equipped) Engine oil filler cap Engine oil level dipstick Brake fluid reservoir Battery Radiator Electric cooling fan Condenser
With the engine at operating temperature and turned off, check the oil level on the dipstick. ■ Checking the engine oil 1. Park the vehicle on level ground. After warming up the engine and turni
SEE MORE:
COMPONENTS ILLUSTRATION *A for Fold Down Seat Type - - *1 REAR SEAT CUSHION ASSEMBLY *2 REAR SEAT CUSHION LOCK HOOK *3 REAR SIDE SEATBACK ASSEMBLY LH *4 REAR CENTER SEAT OUTER BELT ASSEMBLY *5 REAR SEAT INNER BELT ASSEMBLY RH *6
REPLACEMENT CAUTION / NOTICE / HINT The necessary procedures (adjustment, calibration, initialization or registration) that must be performed after parts are removed and installed, or replaced during automatic transaxle fluid replacement are shown below. Necessary Procedures After Parts Removed/In