Toyota Camry: Power outlet
Please use as a power supply for electronic goods that use less than 12 VDC/10 A (power consumption of 120 W).
Open the lid.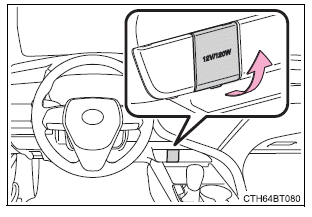 ■The power outlet can be used when
Vehicles without a smart key system: The engine switch is in the "ACC" or "ON" position.
Vehicles with a smart key system: The engine switch is in ACCESSORY or IGNITION ON mode.
■When turning the engine switch off
Disconnect electrical devices with charging functions, such as mobile battery packs.
If such devices are left connected, the engine switch may not be turned off normally.
NOTICE
To avoid damaging the power outlet, close the power outlet lid when it is not in use.

Foreign objects or liquids that enter the power outlet may cause a short circuit.

To prevent battery discharge, do not use the power outlet longer than necessary when the engine is not running.
READ NEXT:
The USB charging ports are used to supply 2.5 A (USB Type-A port) or 3.0 A (USB Type-C port) of electricity at 5 V to external devices. The USB charging ports are for charging only. They are not d
A portable device, such as a smartphone or mobile battery, can be charged by just placing it on the charging area, provided the device is compatible with the Qi wireless charging standard created by
Fold down the armrest for use. NOTICE To prevent damage to the armrest, do not apply too much load on the armrest. Assist grips An assist grip installed on the ceiling can be used to support
SEE MORE:
INSPECTION PROCEDURE 1. INSPECT FRONT NO. 1 SPEAKER ASSEMBLY (a) With the speaker installed, check that there is no looseness or other abnormalities. (b) Check that there is no foreign matter in the speaker, no tears on the speaker cone or other abnormalities. (c) Measure the resistance of
Vehicles with 16 and 17-inch tires Use the correct tire chain size when mounting the snow chains. Chain size is regulated for each tire size. Side chain: 0.12 in. (3 mm) in diameter 0.39 in. (10 mm) in width 1.18 in. (30 mm) in length Cross chain: 0.16 in. (4 mm) in diameter 0.