Toyota Camry: Tire inflation pressure
Tire inflation pressure
The recommended cold tire inflation pressure and tire size are displayed on the tire and loading information label.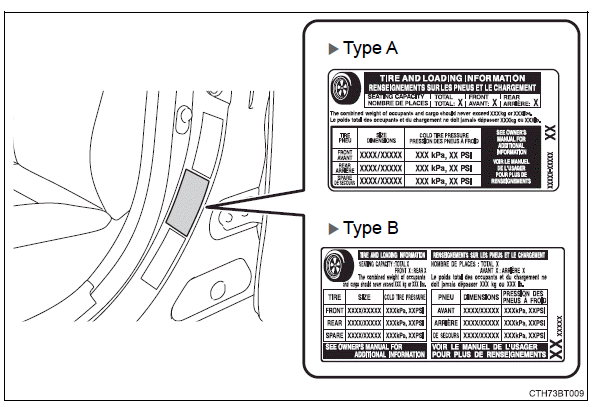 Inspection and adjustment procedure
Tire valve
Tire pressure gauge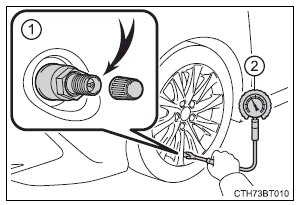 1. Remove the tire valve cap.
2. Press the tip of the tire pressure gauge onto the tire valve.
3. Read the pressure using the gauge gradations.
4. If the tire inflation pressure is not at the recommended level, adjust the pressure.
If you add too much air, press the center of the valve to deflate.
5. After completing the tire inflation pressure measurement and adjustment, apply soapy water to the valve and check for leakage.
6. Put the tire valve cap back on.
■Tire inflation pressure check interval
You should check tire inflation pressure every two weeks, or at least once a month.
Do not forget to check the spare.
■Effects of incorrect tire inflation pressure
Driving with incorrect tire inflation pressure may result in the following:
Reduced fuel economy
Reduced driving comfort and poor handling
Reduced tire life due to wear
Reduced safety
Damage to the drivetrain
If a tire needs frequent inflating, have it checked by your Toyota dealer.
■Instructions for checking tire inflation pressure
When checking tire inflation pressure, observe the following:
Check only when the tires are cold.

If your vehicle has been parked for at least 3 hours or has not been driven for more than 1 mile or 1.5 km, you will get an accurate cold tire inflation pressure reading.

Always use a tire pressure gauge.

It is difficult to judge if a tire is properly inflated based only on its appearance.

It is normal for the tire inflation pressure to be higher after driving as heat is generated in the tire. Do not reduce tire inflation pressure after driving.
Never exceed the vehicle capacity weight.

Passengers and luggage weight should be placed so that the vehicle is balanced.
WARNING
■Proper inflation is critical to save tire performance
Keep your tires properly inflated.
If the tires are not properly inflated, the following conditions may occur which could lead to an accident resulting in death or serious injury:
Excessive wear
Uneven wear
Poor handling
Possibility of blowouts resulting from overheated tires
Air leaking from between tire and wheel
Wheel deformation and/or tire damage
Greater possibility of tire damage while driving (due to road hazards, expansion joints, sharp edges on the road, etc.)
NOTICE
■When inspecting and adjusting tire inflation pressure
Be sure to put the tire valve caps back on.
If a valve cap is not installed, dirt or moisture may get into the valve and cause an air leak, resulting in decreased tire inflation pressure.
READ NEXT:
If a wheel is bent, cracked or heavily corroded, it should be replaced. Otherwise, the tire may separate from the wheel or cause a loss of handling control. Wheel selection When replacing wheels,
The air conditioning filter must be changed regularly to maintain air conditioning efficiency. Removal method 1. Turn the engine switch off. 2. Open the glove box and remove the glove box cover
Replace the battery with a new one if it is depleted. You will need the following items: Flathead screwdriver Small flathead screwdriver Lithium battery CR2032 Replacing the battery Vehic
SEE MORE:
REMOVAL CAUTION / NOTICE / HINT NOTICE: Immediately after installing the brake pads, the braking performance may be reduced. Always perform a road test in a safe place while paying attention to the surroundings. After replacing the rear disc brake pads, the brake pedal may feel soft due t
HOW TO PROCEED WITH TROUBLESHOOTING OPERATION FLOW HINT: Perform troubleshooting in accordance with the procedure below. The following is an outline of basic troubleshooting procedure. Confirm the troubleshooting procedure for the circuit you are working on before beginning troubleshooting. 1.VE