Toyota Camry: Windshield wipers and washer
Operating the wiper lever
Operating the

lever operates the wipers or washer as follows.
When intermittent windshield wiper operation is selected, the wiper interval can be also adjusted.
*1 or *2
Intermittent windshield wiper operation The intermittent windshield wiper operates more frequently as vehicle speed becomes higher.
*1 or *2
Low speed windshield wiper operation
*1 or *2
High speed windshield wiper operation
*1 or *2
Temporary operation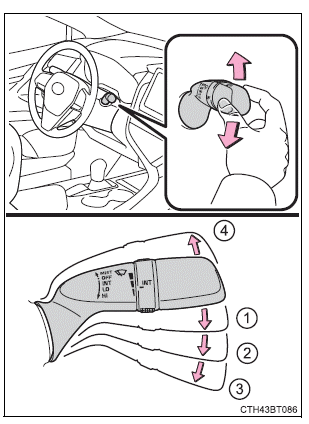 *1: For U.S.A.
*2: For Canada
Wiper intervals can be adjusted when intermittent operation is selected.
Increases the intermittent windshield wiper frequency
Decreases the intermittent windshield wiper frequency
Washer/wiper dual operation
Pulling the lever operates the wipers and washer.
Wipers will automatically operate a couple of times after the washer squirts.
(After operating several times, the wipers operate once more time after a short delay to prevent dripping.
However, the dripping prevention does not operate while the vehicle is moving.)
■The windshield wiper and washer can be operated when
Vehicles without a smart key system: The engine switch is in the "ON" position.
Vehicles with a smart key system: The engine switch is in IGNITION ON mode.
■If no windshield washer fluid sprays
Check that the washer nozzles are not blocked if there is washer fluid in the windshield washer fluid reservoir.
■When stopping the engine in an emergency while driving
If the windshield wipers are operating when the engine is stopped, the windshield wipers will operate in high speed operation. After the vehicle is stopped, operation will return to normal when the engine switch is turned to "ON" position (vehicles without a smart key system) or IGNITION ON mode (vehicles with a smart key system), or operation will stop when the driver's door is opened.
WARNING
■Caution regarding the use of washer fluid
When it is cold, do not use the washer fluid until the windshield becomes warm. The fluid may freeze on the windshield and cause low visibility. This may lead to an accident, resulting in death or serious injury.
NOTICE
■When the windshield is dry
Do not use the wipers, as they may damage the windshield.
■When the washer fluid tank is empty
Damage to the washer fluid pump may be caused if the lever is pulled toward you and held continually.
■When a nozzle becomes blocked
In this case, contact your Toyota dealer.
Do not try to clear it with a pin or other object. The nozzle will be damaged.
READ NEXT:
When the windshield wipers are not being used, they retract to below the hood. To enable the windshield wipers to be lifted when parking in cold conditions or when replacing a windshield wiper inser
Opening the fuel tank cap Perform the following steps to open the fuel tank cap: Before refueling the vehicle Close all the doors and windows, and turn the engine switch off. Confirm the typ
SEE MORE:
CAUTION / NOTICE / HINT HINT: Some versions of "Bluetooth" compatible audio players may not function properly, or the functions may be limited using the radio and display receiver assembly, even if the portable audio player itself can play files. Click here PROCEDURE 1. CHECK
DESCRIPTION for Automatic Sound Levelizer (ASL): This circuit is necessary for the Automatic Sound Levelizer (ASL) built into the radio and display receiver assembly. The Automatic Sound Levelizer (ASL) function automatically adjusts the audio system volume in order to compensate for increase