Toyota Camry: Front seats
Adjustment procedure
Manual seat
Seat position adjustment lever
Seatback angle adjustment lever
Vertical height adjustment lever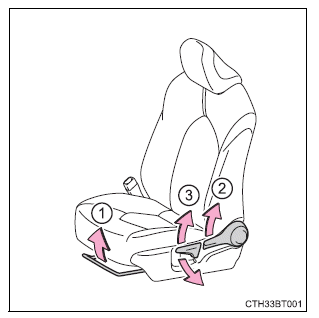 Power seat
Seat position adjustment switch
Seatback angle adjustment switch
Seat cushion (front) angle adjustment switch
Vertical height adjustment switch
Lumbar support adjustment switch (driver's side only)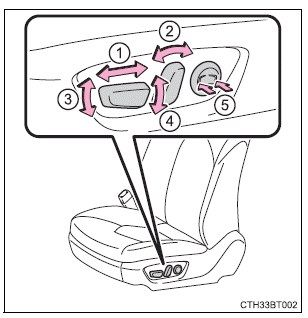 WARNING
■When adjusting the seat position
■Seat adjustment
Be careful that the seat does not hit passengers or luggage.
To reduce the risk of sliding under the lap belt during a collision, do not recline the seat more than necessary.

If the seat is too reclined, the lap belt may slide past the hips and apply restraint forces directly to the abdomen, or your neck may contact the shoulder belt, increasing the risk of death or serious injury in the event of an accident.

Adjustments should not be made while driving as the seat may unexpectedly move and cause the driver to lose control of the vehicle.

Manual seat only: After adjusting the seat, make sure that the seat is locked in position.
NOTICE
■When adjusting a front seat
When adjusting a front seat, make sure that the head restraint does not contact the headliner. Otherwise, the head restraint and headliner may be damaged.
READ NEXT:
The seatbacks of the rear seats can be folded down. Folding down the rear seatbacks Pull the seatback lever in the trunk for the seatback you wish to fold down and then fold the seatback down.
Head restraints are provided for all seats. Adjustable type Up Pull the head restraint up. Down Push the head restraint down while pressing the lock release button. Integrated type
SEE MORE:
COMPONENTS ILLUSTRATION *1 NO. 1 ENGINE UNDER COVER *2 NO. 2 ENGINE UNDER COVER ASSEMBLY *3 FRONT WHEEL OPENING EXTENSION PAD LH *4 FRONT WHEEL OPENING EXTENSION PAD RH *5 FRONT FENDER APRON SEAL LH - - N*m (kgf*cm, ft.*lbf): Spe
Dimensions and weights (2WD models) *1: Unladen vehicles *2: For LE or XLE grade models *3: For SE or XSE grade models *4: 205/65R16 tires *5: 215/55R17 tires and TRD models with 235/40R19 tires *6: 235/45R18, and SE or XSE grade models with 235/40R19 tires *7: For TRD models Dimensions an