Toyota Camry: If the vehicle becomes stuck
Carry out the following procedures if the tires spin or the vehicle becomes stuck in mud, dirt or snow:
1. Stop the engine. Set the parking brake and shift the shift lever to P.
2. Remove the mud, snow or sand from around the front wheels.
3. Place wood, stones or some other material under the front wheels to help provide traction.
4. Restart the engine.
5. Shift the shift lever to D or R and release the parking brake. Then, while exercising caution, depress the accelerator pedal.
■When it is difficult to free the vehicle
Press

to turn off TRAC.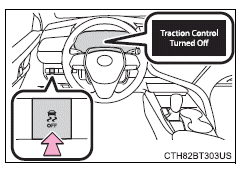 WARNING
■When attempting to free a stuck vehicle
If you choose to push the vehicle back and forth to free it, make sure the surrounding area is clear to avoid striking other vehicles, objects or people.
The vehicle may also lunge forward or lunge back suddenly as it becomes free. Use extreme caution.
■When shifting the shift lever
Be careful not to shift the shift lever with the accelerator pedal depressed.
This may lead to unexpected rapid acceleration of the vehicle that may cause an accident resulting in death or serious injury.
NOTICE
■To avoid damaging the transmission and other components
Avoid spinning the front wheels and depressing the accelerator pedal more than necessary.
If the vehicle remains stuck even after these procedures are performed, the vehicle may require towing to be freed.
READ NEXT:
Dimensions and weights (2WD models) *1: Unladen vehicles *2: For LE or XLE grade models *3: For SE or XSE grade models *4: 205/65R16 tires *5: 215/55R17 tires and TRD models with 235/40R19 tire
SEE MORE:
DIAGNOSTIC TROUBLE CODE CHART Audio and Visual System DTC No. Detection Item Link B1324 Lost Communication with Meter B1325 Lost Communication with HUD B1551 HD Radio Tuner Malfunction B1579 Voice Recognition Microphone
PROCEDURE 1. CHECK NOISE CONDITION (a) Check from which direction the noise comes (front left or right, or rear left or right). OK: The location of the noise source can be determined. NG GO TO STEP 3 OK 2. CHECK SPEAKERS (a